Baby and the Nobodies
Published by
on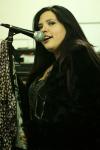 I had a wonderful time at this interview, these guys and gal, are very welcoming and absolutely wonderful. I really enjoy their music, and look forward to the upcoming shows. All of them have a stage presence is very entertaining.. See them live at any of the new upcoming shows! worth the price of admission. Love them!
Recent addition of Jason Bennett on drums finally have this band back on track outdoing shows. love it!. I've been waiting awhile for this interview and I really appreciate the time that they spent with me. They are all very gracious and accommodating. I really enjoyed this interview, hadlotsof laughs and learned some new stuff. Thank you so so very much, RockStars!
Featured songs from their current album Satellite Highway
Heaven is For Losers, Fade Away, and Gimme Gimme.
Check them out at ReverbNation, Facebook, Youtube, and http://www.babyandthenobodies.com
Members:
Rebecca Terry/ Vocals
The Rev/ Guitar
Kenny Wheeler/ Bass
Jason Bennett/ Drums