Antihero
Published by
on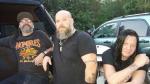 Antihero, yep these guys!! What can I say, I am a big fan. I really enjoyed getting to know them better and lots of laughs (as usual), thank you so much for taking the time.
Antihero - I get it, and hopefully everyone else does too!!!
Antihero has only been around as a band for a few years, but they rock! I really enjoy the music, their energy and personalities. I try hard not to miss a show. I am looking forward to the next album so much! They are wonderfully good people, as well as rock stars, with a ton of experience and just plain awesome. They bring the *get out of your seat music, great lyrics and special effects (thank you Jason). I really needed to spend more time with them, but alas they had a show to do, complete with FIRE! If you have the chance GO SEE THEM!! Love you guys!
Tim Silvers -Vocals/Guitar
Jason VanEss -Drums
Billy Stambaugh -Bass
Visit them on reverbnation or facebook