Razors and Redflags
Published by
on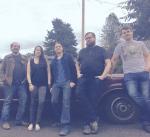 At a practice space in the small town of McCleary, I got to get to know this band. Awesome! way more than I expected.. The music they play has a very classic rock feel to it, I really enjoyed getting to know them and would love to see them more in the Olympia area!
hint - to all my promoter friends this is a very solid band that would fit in at any venue.
although I enjoyed myself and I am not sure if that was gunshots or fireworks that I couldn't edit out, ( oh jeez) it really was worth the trip. I really did like the music this band produces, they are coming out with another album in Dec. I will be adding it to my collection. Keep an eye open for them to play and if you get the chance go see them. I think they are great!
Ryan Baker - lead vocals, guitar
Pete Sandona - vocals,bass
Nick Valentine - lead guitar
Kesler Blair - drums
Georgia Baker - vocals
Check them out at
https://www.facebook.com/razorsandredflags
http://www.rocktherapyrecords.com